Last Week's Weight: 169.0
Total Loss: -59.8
GUYS. I'm so close to the 60lbs lost mark again. It's been over a year since I've been in the 160s (before last week's weigh in), so I'm happy to be movin' on down! I tried hopping on and off the scale to see if that would make me magically lose .2lbs but then it went up .2 instead and that's a big fat NOPE so let's just stick with the original weight :)
Weight Watchers hasn't robbed me of a point from my daily target in awhile (currently at 28PP/day), so I feel like that change is coming up soon. In the meantime: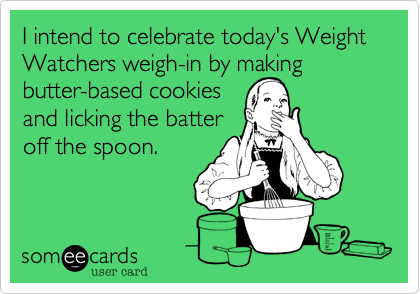 Just kidding. But I'm camping this weekend which means there will be YOLO eating, so I have to keep it locked up until then. The good news is that my first attempt at zoodles was a great success, so I've got my meals prepped for the rest of the week!
Anyway, just a short update today, but it appears my back to basics (again) approach is working. Hope everyone else had a solid weigh-in Wednesday.
How was your weekly weigh-in?