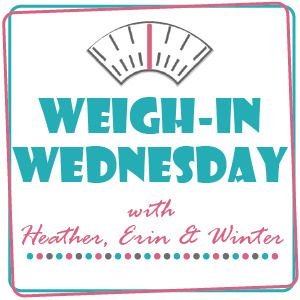 LOL. Inch by inch, for real. I will drag myself back into the 160's kicking and screaming. At this rate, I might get there by Christmas :)
I definitely could've done a better job with my eating, because in addition to my 49 extra points, I ate 30 of my 56 activity points (oops). In my defense, my office had our annual Service Day yesterday where we spend the whole day at a kids' summer camp cleaning and scrubbing and organizing and moving and sweeping. So when they laid a giant spread of Portillo's out for us for lunch, you better believe I went for the cheeseburger (and then later the ice cream drumstick yummm). So, given that I ate more APs than I usually like to, I will certainly take this teeny tiny loss.
The good news is that I've been sticking to the workout plan, and have had a really killer last few weeks of workouts. Last week looked like this:
Monday - GoRow

Tuesday - FlyWheel

Wednesday - Ropes Gone Wild (HIIT with jump ropes and heavy battle ropes)

Thursday - Brawl (kickboxing)

Friday - Power Hour Yoga

Saturday - Iron & Oar (rowing circuits)

Sunday - Restorative Yoga (aka glorified stretching with zen yoga music and sometimes the teacher gives you a mini-massage and it's wonderful)
And this week looks like this:
Monday - GoRow

Tuesday - FlyBarre (+ several hours of scrubbing building exteriors at our service day)

Wednesday - Brawl

Thursday - REST DAY GOD BLESS AMERICA

Friday - Power Hour Yoga

Saturday - TBD, but I'm leaning towards Hikeology because I guess I'd like to not be able to sit down on Sunday

Sunday - likely yoga
Work/life has been a little crazy the last few weeks. But I hit a huge milestone on Sunday when I went to my 100th Class Pass class!! I'll be checking in later this week, with a roundup of things I've learned in 100 classes. Until then, keep fighting for those inches.
How was your weigh-in Wednesday?