Total Loss: -54.2
Blogging has been sporadic (at best) lately, because work has been pretty full throttle since about Christmas. And, weight loss progress has been less than stellar. Week after week I've stepped on the scale and seen a number between about 172-177. Then, there were some weeks where I said screw it, and didn't weigh in at all. That's the truth.
I feel like by not blogging about my weight, I've been letting the number bring me down. I am working out 5-6 days a week, but I did have a few weeks where my attitude toward eating can be summed up as follows: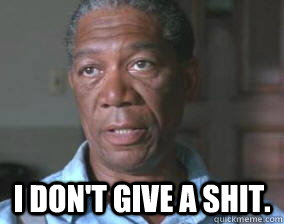 I see people who (it seems) eat more than I do and lose weight. I see people who (it seems) work out less than I do and lose weight. I'm totally aware that this is whining and that my assumptions about what other people do/don't do to lose weight could very much be wrong. But sometimes I just think: WHAT THE HELL BODY CAN WE REMEMBER WHAT IT'S LIKE TO LOSE WEIGHT CONSISTENTLY?
Based on the fact that I've not plateaued in the mid 170's three times now (I've probably spent almost a collective year in this weight range) it would seem my body is quite comfortable here. But am I? I don't know.
I'm really really really happy I don't weigh 228lbs anymore. I'm proud of how hard I worked to lose 54+lbs. But I'm not as muscular as I would like to be. I'm really glad I can push myself harder when I'm working out and that making myself work out isn't as much of a battle as it once was. But I'm still a little squishier than I want to be.
I don't think there is a perfect number where I will suddenly be content and happy and never have another negative body-related thought. But, at the same time, I often feel like throwing away the scale is a slippery slope to disregarding weight gain and focusing too much on little wins (that aren't adding up).
All of this is to say, I'm still here, I'm still trying, and I'm still weighing in. My focus this month is to have less "YOLO eating" weeks, and more restraint around unhealthy foods. I actually gave up sweets for lent (and by lent I mean until I go on vacation at the end of the month), which I think has drastically helped me reel in the little nibbles at work that have been adding up. This week I lost weight, so I must be doing something right. Now, I just need to keep it up!
How was your weigh in Wednesday?