I am still here, I promise! Whew, a brief update on where I've been:
The week before Christmas I practically worked non-stop (we're talking dinner at the office every night kind of insanity). Then, Christmas was a blitzkrieg of family time and gift shopping and family time and all of that holiday fun stuff. My parents are hilarious and I loved getting to spend time with them and my brothers over a long week at home, away from the city and public transit and having to walk to the laundromat and the cold. I'm happy to report that I made to to the gym four times in the week I was home. And then I also ate 4x my weight in cookies. Ugh.
So here's where I'm at now: back from the holidays and not making a resolution because a) it's January 12th and b) I don't believe in resolutions. My two non-resolution goals for the year are to read more and to finally (FINALLY) reach my goal weight. I just finished Wild by Cheryl Strayed (yes, I realize I'm so far behind on that bandwagon) but it was SO good. When I was reading it I would occasionally spend a few moments about what it would be like to actually leave everything behind and become a badass Amazonian queen (Cheryl's words), until I remember: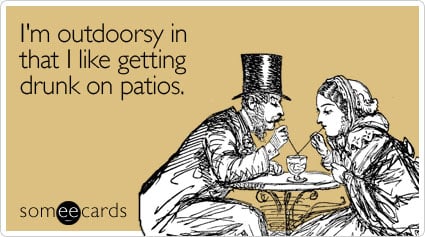 I finished reading Wild during my haircut on Saturday. There's a movie theater in the same building as my salon, and Wild was playing 30 minutes after I finished, which I took as a sign I needed to see it immediately. From the haircut, to the movie, to lunch with a friend and afternoon spent (mostly) window-shopping and buying an amazing haul of tea from David's Tea, I turned it into a #treatyoself Saturday to celebrate my recent promotion :) Then I abandoned all plans on Saturday night to stay in, polish my nails, and drink tea. Yes, I am 25 going on 65 and it was GLORIOUS.
Anyway, now that some of the work craziness has subsided, I look forward to getting back to more regular blogging. I joined a dietbet and I have a desperate need to reign in my eating after doing more than a little damage over the holidays. My year-end #Fit4Fifteen challenge may technically be over, but there's nothing stopping me from still getting #Fit4Fifteen (there are still 11.5 months left to make a change!).
So this is is me. Still in this thing. Still gunning for my finish line. Still getting Fitnasty for Life. Are you in?