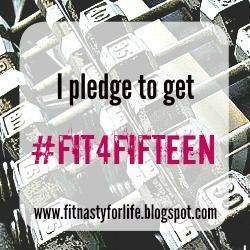 Happy Fit4Fifteen Friday!
I'm spending a long weekend in NYC attempting to not eat ALL of the cronuts (are those even still a thing? I don't know). I apologize for the abridged post, but still wanted to keep the linkup going for the other #fit4fifteen warriors.
Hope everyone has had a successful week after Thanksgiving! We're halfway through the #fit4fifteen battle, with still plenty of holiday parties and cookie swaps and mulled wine temptation before the end of the year. Check in and share how the challenge has been going so far. If you need support in a certain area (getting in your water, getting to the gym, hitting your daily nutrition goals, finding healthy recipes that don't suck) leave a comment because there's still almost a whole month left until 2015. We have to support each other and keep the motivation alive. Let's finish the year strong!
Have a great weekend and link up below! :)