First of all, HOLY SMOKES, thanks so much for all the comments and support after Monday's guest-blogging and Instagram takeover for Operation Skinny Jeans. Gaining weight is a hard topic to write about, but it becomes a lot easier when other can sympathize. I truly appreciate every comment, and I'm still working on replying to everyone. I'll get there, promise!
Secondly, due to popular demand, I'll be making #fit4fifteen into a linkup on Fridays through the end of the year. #Fit4fifteen is a pledge that you are getting healthy before the New Year, and not waiting for an arbitrary date to make a resolution (can you tell I think resolutions are BS?).
Want to participate in #fit4fifteen? Use the hashtag on Instagram to tag the pics of the healthy choices you're making: picking water instead of pop (yes, I say pop, Midwest represent!), going for a walk during lunch, making something healthy for dinner, walking past the candy bowl, do not pass go, do not collect 3 fun size snickers. Stuff like that. Also, I'd love to hear about your successes and struggles! With a bunch of people expressing interest, we can hold each other accountable. I'll be updating this post with the proper #fit4fifteen button tonight or tomorrow, and then posting the linkup on Friday morning, so share the link to your post then.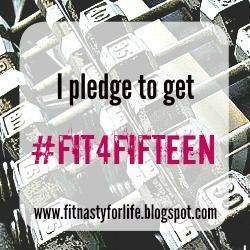 THIRDLY, today marks one week (plus one day) of being back on Weight Watchers and HECK YEAH I am excited about the results. I'll post a disclaimer which is that yes, I am eating healthily, no, I'm not starving myself (I don't have the willpower even if I wanted to), and yes I realize this is a high weight loss. In the past week I still had pizza (in moderation), buffalo wings, beer, a cupcake, and loaded baked potato soup. You DON'T have to eat meager portions or rabbit food to lose weight, I promise. You DO have to be honest with yourself and track and plan for your indulgences. I didn't take a magic weight loss pill, I planned and tracked my food every day. And yes, I ate every single one of my 49 extra weekly points (you're supposed to!)
Last Week's Weight: 176.4
If I'm being brutally honest, I weighed in at 179.8 last Sunday, which means I've lost over 7lbs since then. Sooooo I guess giving up bottomless servings of trail mix has been helpful.
As I mentioned last week, my goal is to hit 165 before the New Year. My aggressive goal is to match my lowest adult weight, 162.2, before then. That would mean I have 10lbs to lose in exactly 7 weeks. It's doable (and healthily and naturally doable-- no juice cleanses for this girl). But that one will totally depend on how much I can lock it up over the holidays.
I've blabbered on far too long. Your turn! How was your weigh in this week?