It's #fit4fifteen Friday!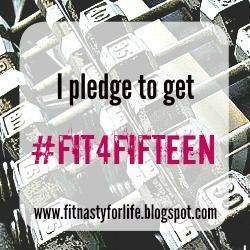 I was so glad to hear that other people were interested in committing to #fit4fifteen right along with me. If this is the first you're hearing of #fit4fifteen, it's an outlet/support group and weekly linkup for other people who are looking to commit (or re-commit!) to their health and fitness goals before the end of the year. In the face of pecan pie, mulled wine, pumpkin spice coffee, christmas cookies, holiday ham, egg nog and all the other gluttony that comes with the holiday season, we're making a pact to conquer the holiday season, and to enter 2015 even healthier/stronger/fitter than we are right now.
If there's anything I've learned from two years of trial and error in my own weight loss journey, it's that there's never a good time to get healthy. Or, more optimistically, any time is a good time to get started if you are really and truly committed.
It was two years ago today that I was tired of saying "my diet starts Monday" and then throwing in the towel by Wednesday. I was sick of seeing higher and higher numbers on the scale. I didn't want to size up because "my pants shrunk in the dryer." And so, two weeks before Thanksgiving, I fully committed to Weight Watchers. I tracked every bite I ate throughout Thanksgiving and Christmas, and lost 12lbs between November 14th and January 1st. It wasn't easy, but it was 100% worth it.
L: Dec. 2012, already 10lbs down and shopping for a NYE dress.
R: Yesterday, 172lbs.
And now h
ere we are, on the exact same day, two years later. Last week I recognized that I was heading in the wrong direction, and that if I didn't correct it now,
I would end 2014 heavier than I started it.
I refuse to surrender myself to gaining weight over the holidays.
It's my choice whether I gain weight in before 2015, or whether I lose it.
There are 47 days until 2015 that are going to pass by, regardless of what I do. Whether I use those 47 days to get closer to my goals or to get farther away from them, the decision is mine.
Share your motivation and your plan to get #fit4fifteen, and then help support others who are committing too! Use the #fit4fifteen hashtag on Instagram and see how other people are staying committed to their goals through the holidays!