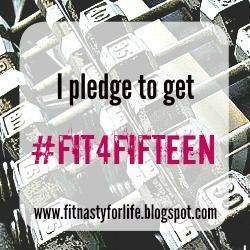 I hope everyone (all of my American readers, at least!) had a very Happy Thanksgiving! I spent the day in the suburbs with my college roommate's family and had a great time. I have to admit, it's a tiny bit bittersweet to be away from my own family for Thanksgiving (it's only the second time I've been away from them for the holiday), but spending time with my friend's family was about as close to my own as could be. And, of course, the food was amazing :)
The hardest part about the holidays, diet-wise, is getting back on track once they're over. Especially with Thanksgiving on a Thursday, it can be so easy to wake up and eat leftovers on Friday, order a pizza on Friday night, and then chuck healthy habits out the window for the rest of the weekend because, damnit, there's pumpkin pie to eat. Not this year!
When I food prepped early this week, even though I only had 2.5 work days, I prepped for an entire week to take away my excuses to eat like crap post-Thanksgiving. I have 2 prepped turkey sausage, rice and veggie meals in my fridge, and supplies for another serving or two of my my sweet potato egg hash. I know I'm the queen of excuses, so I counteract that by having healthy (and delicious!) meals on hand and ready to go.
Another thing I'm working on is filling my fridge with snackable fruits and veggies like apples and carrot sticks. Snacking has always been a downfall of mine, so I'm working on re-wiring my brain to want healthier snacks. If I'm hungry but don't want carrot sticks and hummus or an apple, well, that doesn't mean I get chips (and I can't have them anyway because j don't keep them in my apartment!). That's not to say I've stopped craving chips/starchy snacks, but it's a step in the right direction. I realize I'm not a shining beacon of health, but if I could give just one game-changing good tip, it would be this: if you don't want to eat it, DON'T keep it around. If you say no in the store, you only have to say no once. If you bring it home, you have to say no every time you see the food in your pantry.
Hopefully all of you had a wonderful Thanksgiving with friends and family! If you're joining me in the quest to get #fit4fifteen, hopefully you're also returning to healthy habits after a food-filled Thabksgiving.
How do you get back on track after a holiday?