May was a whirlwind, right? I feel like a common theme among my fave bloggers is that May kind of kicked everyone's butt in one way or another. As I mentioned last week, my May was no exception. But a very much belated thank you for all the birthday wishes! Cheers to making 25 a fabulous year!
To add to the excitement, I just found out last Thursday that I need to move out of my apartment at the end of June instead of the end of July, when my lease actually ends. It's a long story that starts and ends with the fact that my landlady thinks silly little things like city rental codes are mere suggestions and that she can govern our lessor/lessee relationship however she damn well pleases. ANYWAY, apart from the chaos of moving things up a month (did I mention I haven't signed a new lease yet?), I'm actually pretty excited to move out and get my own little lady lair... my equivalent of a man cave. More to come on this front.
Because I am quite certain you aren't here for the apartment chatter, on with the show!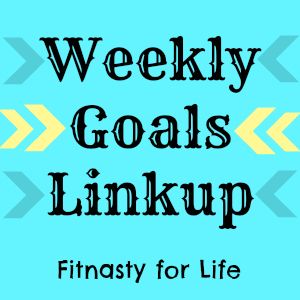 The lovely Shannon is hosting a June get-your-butt-back-in-shape Challenge. That's not her name for it... but that's most definitely what it is for me! She plans to focus on three things: water, portion control, and exercise. Fittingly, my goals this week will follow those areas:
1) 100oz a day. Plain and simple, I feel best when I'm properly hydrated and peeing every hour. I was slipping pretty often the last few weeks, but I've started to make this more of a priority again lately. Once it's a habit, I won't have an issue. Back in the habit!
2) Five workouts. I honestly couldn't tell you the last time I hit five workouts in a week. My damn achilles is still giving me troubles, and I've just been all-around lazy. I know that to be successful, I need to plan my life around my workouts as much as possible, instead of vice versa. Now I just need to do it.
These are what my groceries look like when
I'm atoning for a month of questionable eating habits.
3) Stay within my calorie target every day. Four slices of Jet's Pizza on Friday night? Definitely not within my calorie target... and that was the kickoff for a fairly unhealthy weekend that included - ahem - three homemade sinfully delicious Irish Car Bomb cupcakes (Lauren, if you're keeping score this means I ate the one you left for Julie because... Julie left it for me). I need to reel it back in if I want to start seeing the numbers drop.
4) 10,000 steps a day. If I'm working out, this really shouldn't be an issue. I've had wayyyyy too many days of only 6-7K steps lately.
Are these goals aggressive, given my laziness and slacking eating lately? Yes, absolutely. But I never got anywhere in this journey by sticking within my comfort zone. Now, it's time to put in the work.
What are your goals this week? Link up and share!