I apologize for neglecting the linkup last week! But I'm baaaaaaaack.
Ready for the truth?
I ate pretty badly last week, and I don't really have a good reason as to why. Bad is still relative, because I'm not eating as poorly as I ate before starting this journey (which I'm only now realizing exactly how bad that was... I was probably eating 2200+ calories a day). But I made the mistake of buying chocolate wafer cookies because I thought I could control myself around them at home... and I was oh so very wrong. And then I ate Mexican food at work for no reason other than that it was there. And I ate pizza and tiramisu this weekend. Needless to say, it's time to get back on the wagon.
The other ugly truth? My achilles issues from last fall/winter are flaring up again. I completed my scheduled 12-miler on Saturday with Lauren (rewarded with brunch, per usual). But when I went to complete Sunday's 4-mile recovery run, my achilles was having nothing to do with it. I couldn't stop limping through the run, and it wasn't really improving as I kept going, so I called it a day after half a mile. I'm worried about the half, but my taper starts this week so I'm Ibuprofen-ing 'round the clock and trying to listen to my body.
Onto more positive things that
are
more in my control: this week's goals!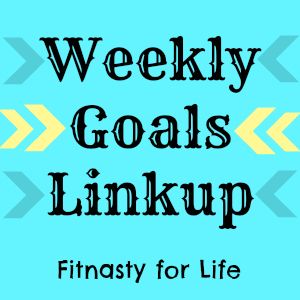 1) No lunches out.
If you follow me on Instagram, you know I was a meal-prepping maniac last night due to the aforementioned of-the-wagonness from last week. Lunches for every day this week are ready to go, no excuses here!
2) 100oz of water a day.
Hydration nation... T-2 weeks until race day and I want to focus on healthy habits now.
3) No pop.
Ugh. I just need to make this happen.
4) 10,000 steps a day!
As I've mentioned before, this isn't always easy on my non-workout days, but I need to focus on getting up and moving around during the day (even if it's just a lap around the office).
You'll notice there aren't any running-related goals on here because... well, I don't know what my running schedule is going to look like this week. I'm hopeful that I'll be able to get in at least 3 runs, but my priority is getting to the start line in as good of shape as possible. If that means limiting my running in the next 2 weeks, so be it.
Have you ever dealt with achilles issues or injuries so close to race day? Any advice?
What are your goals this week? Let's hear it!