Spring has finally sprung in Chicago (FINALLY). I was starting to question whether we'd ever leave the 40's behind, but it looks like we've taken a turn for the better. Evidence:
In other news, poorly-lit bathroom photos do not do the color of this dress justice, but it's the most beautiful bright purple and I plan on wearing it approximately 3289 times this summer.
Aside from the gorgeous weather, my weekend wasn't terribly exciting. It included lots of lounging, catching up on some work, apartment hunting, and completing my last pre-half marathon long run: a very-speedy-for-me 7 miles on Saturday.
Honestly, I have no idea where this run came from. I put it off basically all day on Saturday and finally dragged my butt off the couch around 5pm. My mind just wasn't in it, but the weather was pretty perfect, so I perked up once the miles started ticking off and I quickly saw that I probably had a 10K PR in me. I actually don't feel like I was pushing as hard as I could for some of the middle miles (3-5), which is encouraging to know I might've been able to run even faster. As I think I've mentioned before, my big bold balls-to-the-wall goal is to run a sub-2 hour half marathon... and I think I might even have it in me before the end of this year. To date, my fastest long-distance pace is 9:27 for an 11-miler, which would equate to a 2:03:30 half marathon. This coming from a girl whose fastest single mile in high school was a 9:02.
ALSO HOLY COW, DID I I MENTION IT'S HALF MARATHON WEEK?!
On with the goals!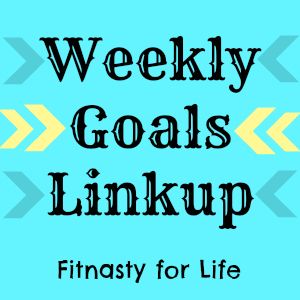 How'd I do last week?
1) No lunches out.
CHECK.
2) 100oz of water a day.
Eh, I probably nailed this 5/7 days.
3) No pop.
CHECK. Wait, take it back, I had a diet coke at brunch yesterday. But no pop at work!
4) 10,000 steps a day!
Errr, only nailed this 4/7 days. In my defense, Monday completely got away from me when I was in the office until 8:30pm. Definitely room for improvement here, though.
And for this week?
1) 100oz a day. It's RACE WEEK! No ifs, ands or buts about this one.
2) No candy.
I ate an embarrassing amount of M&Ms last week. Time to reel it in.
3) Run a happy and healthy half marathon with my beloved Lianna. We've made a pact to run together, so time is not priority numero uno for this race. I'm just excited to run a strong half marathon in a completely new-to-me city (DC!), and to enjoy the days pre-race exploring our nation's capitol and having some fun on my mini-vacation.
Your turn! What are your goals this week?