HOW IS IT ALREADY MARCH?
And, more importantly, WHEN WILL IT BE SPRINGTIME?
If you're wondering what I did this weekend aside from complain about the weather, I ran 6 miles (for the first time since early November) and ate a lot of food. Evidence:
I ate the entire burger and maybe 1/4 the salad. I regret nothing.
But back to the weather, I actually really like the winter. But this winter in Chicago has been by far the worst one I've experienced since moving here, and maybe one of the worst I've ever experienced in my life. Also, enduring an arctic winter when you drive everywhere is one thing, but it's a whole different ballgame when you have to walk everywhere. Outside. And it feels like -6 out.
Basically it's been sub-zero since Halloween (well, it feels like it), and even the stores (except Target, God bless 'em) are hesitant to put out springtime clothing for fear of adding salt to the wounds. So, that's where we're at. All I'm sayin' is I have a summer full of fun events and traveling and I just wanna go sundress shopping and is that so much to ask?!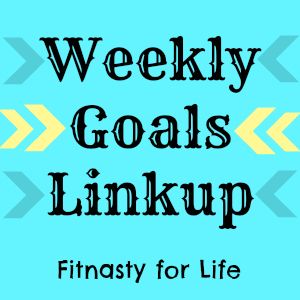 Moving on, I'm changing things up a bit today. Rather than focusing on just one week of goals, I'm going to focus on the entire month. If you're new around here, feel free to make goals however you like. I'm not the goals police :) And if there's any way I can help you, let me know!
Without further ado, the March goals:
1) WW 100 Mile Challenge. I love a good mileage challenge, and this one is pretty simple. You of course don't have to actually be a member of WW to play along, so check out the hashtag on Instagram and join in!
2) Complete 90% of Scheduled Runs. There are 3 "turning point" weeks in Half Marathon training, as far as I'm concerned: a) when the short runs are all upgraded from 3 miles to 4 miles. b) when the mid-week run bumps from 4-5 miles to 6 miles. c) when long runs hit 10 miles. All of these mean significantly more time on your feet and earlier wake-up calls to run before work. This week marks the 3 --> 4 milers turning point for me, but I've been feeling good on training so far. I crossed off all of last weeks runs (21 miles total!), so here's hoping I can hit 90% of scheduled runs throughout March. This means running 20 of my 22 scheduled runs. 2 down, 18 to go!
3) 10K a Day. 10,000 steps. Every single day. Can I do it?
4) Read two Books. I've seriously fallen into the trap of non-stop computering/iPhoning all the time. But in reality, I love to read! My friend just loaned me The Fault In Our Stars, so if the rumors are true, I look forward to ugly-crying my way through it.
The Reeses is [long] gone, but that fudge heart still
taunts me from my desk drawer on a daily basis.
5) No candy. I know I can do this, I just have to make myself do this. I think if I can build up a streak of saying "no" rather than saying "okay just one little piece," I'll be more empowered to say no, even after the month is over.