Long time no talk! Yes, I dropped off the face of the earth last week. It's crunch time on a project at work, which means the last two weeks have been a lot of 11+ hour days. Between that and half marathon training, my days have looked something like this: run, work, TV, sleep. Ah, the exciting life of a grownup!
Anyway, this past weekend gave me time for some much-needed R&R. My friend Lauren (HI LAUREN), who is also training for a half marathon, and I met up on Saturday morning for our 7-miler. Neither of us has ever run with someone before, but we're on a pretty similar training schedule, so we decided to start doing our long runs together. It's been awesome! Our paces are pretty similar, and gabbing makes the time go by so much faster. Too bad we're terrible at planning routes so our 7-miler turned into an 8-miler. But even with the extra unplanned mile, we killed it on pace. Last week's 6-miler was around a 10:45 pace, and this week's 8 was at 10:01-- speedy for this distance for both of us!
Speaking of Speedy Gonzales, I had a 3-miler on the schedule for Sunday and it was pretty much the last thing in the world I wanted to do. I lazed around on the couch all day, then finally had to tear myself away from the riveting Oprah/Lindsey Lohan interview and just get 'er done.
I set out and mentally planned on a slow and steady recovery run, but after cruising through my first mile in 9:01 (super fast for me), my competitive side took over. I was surprisingly not sore at all from Saturday, so I decided go to balls-to-the-figurative-wall and see if I could maintain that pace for a full 5K. And holy crap, I DID.
For perspective, my first ever timed 5K was the Santa Hustle in December 2012. I ran that 5K in 38:18, as 12:19 pace. I trained for that race and remember being pissed I had to stop and take walk breaks. And now, 15 months later, I've taken more than TEN minutes off of my 5K time and ran yesterday's in 27:44. That's insane to me! I'm certainly not a speed demon, but it really does make me proud of how far I've come in a sport that I used to loathe. I haven't actually put focused effort towards getting faster (beyond pushing myself and doing occasional fartleks), so I am really excited to see how I can improve once I start to focus more on speed after the Nike Women's Half :)
Onto the goals!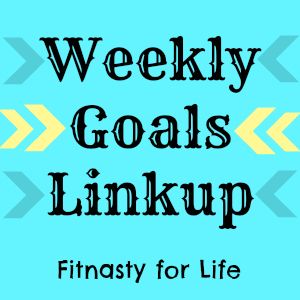 Honest progress report on the monthly goals front? I totally missed the 10K step mark on Friday. Ugh. Oh well, moving on from that with this week's goals:
1) Pack lunch every day for work. Between BOGO chicken and boneless pork chops, I don't have any excuses for eating well all week.
2) 100 ounces a day. I've been slacking on water a bit lately, so it's time to refocus. The good news, though, is that I actually haven't had pop at work in 2 full weeks! Not sayin' I'm never gonna have pop at work again, but I'm glad I was able to cut the habit.
3) Complete all scheduled runs. On tap this week: four 4-milers and an 8-miler. Bring it on.
What are your goals this week?