How about that game last night? I ate roughly the weight of the Super Bowl trophy in taquitos and pepperoni bread, so my body hates me right now. I think the high point of the night was getting into a Twitter battle over the official language of the US (hint: there isn't one), and playing the role of overly-cynical social media professional while watching the brand tweet action. If you also enjoy sarcasm and the occasional awards show/sports game live-tweeting, you should follow me on Twitter. /end shameless self promo.
Time to atone for last night's binge-fest: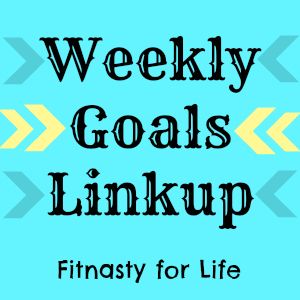 If you're new around here, the purpose of the weekly goals linkup is to start the week on the right foot by setting mini-goals to keep you on track. As I told my girl Amy yesterday, I aim to make my goals achievable, yet challenging. They're not so lofty that I get frustrated, but they're usually a little bit of a challenge. Here's what I was working on last week:
1) Get in five workouts, including at least 2 runs. Wellllll, I got in five workouts, but only got in one run. It was a good one though!
2) Hit my macros 6/7 days. Let's be real, I knew Super Bowl Sunday would be a bust. #nailedit the rest of the week though.
3) Hit 11,000 steps a day. I hit 11,000 steps every day except Saturday. Not bad!
This week's game plan is:
1) Pack my lunch every day. I managed a quick grocery trip yesterday and my kitchen is about as stocked as it can possibly get-- with all heathy things! No excuses for me when it comes to eating healthy lunches and snacks all week.
2) Make a dentist appointment.
This is terrible, but I haven't been to a dentist in about a year. Couple that with needing to find a new one (insurance changed) and knowing I have at least one major procedure (a crown) in my future, and it's pretty obvious why I've been putting this one off. Time to put on my big girl pants and just do it.
3) Complete four runs. Considering I didn't even complete 2 runs last week, this goal is... aggressive. But if I'm going to run a half marathon in April, I need to start training for it now! The dreadmill is about to become my new best friend.
Kick your week off on the right foot with me! What goals are you working on this week?