Another weekend has come and gone, and thus begins the first full week of work (last Monday our office was closed due the the bitter cold) in what feels like ages. On the plus side, the weekend was equal parts lazy and fun, and it included a delicious brunch. Can't complain.
On with the goals!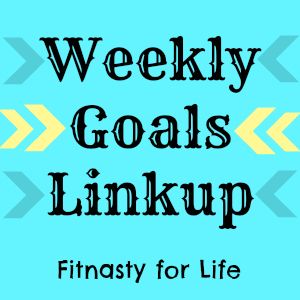 If you're new around these here parts, the Weekly Goals Linkup is basically around to help you start the week off on the right foot. Whether that means repairing the damage done over the weekend, or trying to instill a new healthy habit. Feel free to check out other bloggers' weekly goals for inspiration, and send them some love and good vibes for the week!
Last week my goals were:
1) Drink 100oz of water a day. CHECK.
2) No candy at work. CHECK.
3) Get in five workouts. CHECK.
Successful week back on track!
This week the goals are:
1) Bring lunch to work every day. Shouldn't be an issue because I already made 5 servings of teriyaki chicken. Another meal-prepping for lazy people post coming soon.
2) Get in five workouts. Same goal again. My office actually has a health program where you earn stickers for each workout and day of healthy eating. It's definitely motivating to get to put a sticker on my calendar for each day I workout and eat healthy. Rumor has it that prizes are involved, I just don't know what yet. Also, I'm crossing my fingers that this weekend's warmer temps made the sidewalks passable so that outdoor runs are possible again (!!).
3) Cross those nagging items off my to-do list. Including: get a haircut, pay bills, clean the bathroom, etc. Adulthood, sigh.
Your turn!