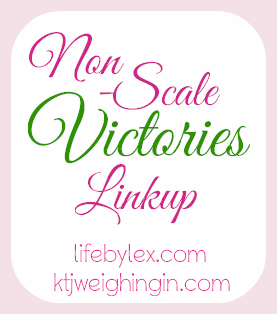 It's been a solid week on the scale, and off the scale too! As usual, linking up with KTJ for this week's Non-Scale Victories:
As far as workouts this week go, three days down and one day to go. After six days of workouts in a row (rare for me), today is a much needed rest day!
Love seeing that I'm less than 20lbs
from goal! (...again)
Hit almost 11,000 steps yesterday! This FitBit is creating a competitive monster out of me. (PS-- Have a FitBit and want to be my friend? I can't promise I won't taunt you though. It might happen.)
My roommate had a bunch of guest passes for her gym, so we actually hit up a Body Blast class on Monday. In general, I hate gyms, and I don't really love group workout classes. But I have to say, I LOVED this class! I was pleasantly surprised by how well I was able to keep up, especially during the 4.5 minute cardio burst at the beginning. I begrudgingly credit JillyBoo's workouts with helping me build both the endurance and strength to really work it!
Yesterday was Day 1 of the Chicago Achiever's Project, and my mission was simple: 9-11 servings of fruits/veggies and 80-100 grams of protein. Sounds simple, but it definitely required more planning and attention to macros than usual. I ended up at 9 servings of freggies and 91 grams of protein-- perfect! I have to admit, I miss my starchy snacks (helllllllo veggie straws), but I'm stickin' to the plan.
Contents: Dannon Greek Yogurt (Banana Cream flavored), banana,
frozen strawberries, 2 handfuls of spinach, water.
Breakfast this morning was a big 'ole green monster smoothie. I can probably get more protein in there (I might buy protein powder or use soy milk instead of water), but yesterday's smoothie kept me surprisingly full. It's funny to me that I used to feel like I wasn't getting a "real" breakfast unless I had something like a bagel sandwich at Dunkin'-- I was hungry after those within an hour! Let's be honest, though: sometimes those just hit the spot.
Those are my NSVs for the week-- what are yours?
What are your favorite protein-filled snacks? I need more ideas!