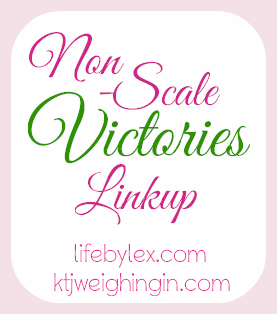 Let's talk about something other than that stupid scale, hmm?
Even though Week 2 kicked my butt, I'm powering through with Week 3 of Ripped in 30. Two words for you: DUCK. WALKS. The pain is real.
I ate a rice cake with chocolate peanut butter on top for dessert the other day, and, contrary to what I expected, it didn't taste like self loathing. Sometimes I get it in my mind that anything less than <insert unhealthy craving> will leave me bitterly disappointed. But it didn't. It took me awhile to learn this lesson when I first started, and I think giving in to cravings too many times caused me to revert back to my old mindset. I need to remember that healthy choices can be satisfying and that I'm not "deprived" of a cheeseburger because I [make myself] pick a salad instead.
Managed a chilly 12 degree run with my new favorite toy (Garmin Forerunner 10!) before Chicago literally became colder than Siberia thanks to a shifting polar vortex.
Got some awesome new workout clothes from Old Navy's killer sale last weekend because a) I love me a good sale and b) I basically never buy myself workout clothes (mostly because it helps me justify the 75+ t-shirts that I "need" in my closet).
NYE last year versus NYE this year:
Okay, the one on the right is not from NYE. But I wore the same thing,
just didn't get a full-length pic (worst blogger award).
Thus fulfills my selfie quota for 2014.
What NSVs are you celebrating this week?