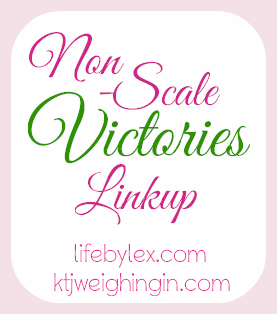 When weight loss is slow goin' (like in yesterday's weigh in) it gets easy to mope about lack of progress. But even if it doesn't show up on the scale, I'm trying to remember that there are still little victories worth celebrating. Here are mine this week:
No pizza. At some time in my life [read: college] I hit a point where I could not turn down free food. Even today, I have a really hard time justifying eating my own food when free food is available. Guilt? Cheapness? Probably both. But despite an office full of free pizza the other day (Lou Malnatis-- the bessssst), I went next door and grabbed a salad. Worse for my wallet, better for me.
A successful treadmill run. Have I mentioned how I hate the dreadmill? I made myself get in short run on Tuesday before our Chicago Achievers Project meeting, and I'm so glad I did. Not only was I able to pound out 2 miles (this is progress, I can't tell you the last time I ran more than a mile on the 'mill), I did it starting at 5.9 and ending at 7.0 MPH-- an 8:34 pace. That's speedy for me!
Healthy eating, no excuses. With such a jam-packed last weekend, I didn't do my normal Sunday grocery run. After making due with the salad bar next door to my office (which is amazing by the way), I made myself get groceries. At 8:30pm. On Tuesday night. When it was sub-zero outside. I got home, threw some chicken in the ol' crockpot overnight, and voila, meals for days, for less than the cost of a single salad bar trip.
What little victories are you celebrating this week?