We're not going to talk about the bad, because NSV Thursday is for focusing on the good.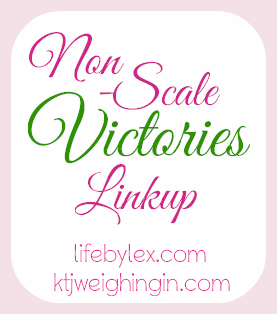 1) My office is filled with unhealthy foods. I don't know if it's the holiday season or if this is normal, but literally it is a minefield of delicious unhealthy things. To walk from my desk to the kitchen I pass: plate of cookies, plate of brownies, giant 5-gallon tin of popcorn, three bowls of candy. I told myself this week no more peanut butter M&Ms (ugh my ultimate weakness), and I'm happy to say that I did not eat a single one, despite having a full bowl of them sitting 5 feet from my desk. Victory!
2) I started week 2 of Ripped in 30 and ohmygoodness it's a LOT harder than week 1. I did JM three times this week, though, so here's to getting back in the early morning workout groove!
3) Nothing to do with healthiness/weight loss, but something that made me smile this week nonetheless: I received the most wonderful gift from my secret santa on Monday! Nail polish, Reese's, Tootsie Rolls, JM, and a cute mug-- did Carmen nail it or what?! Talk about the perfect way to cap off a Monday with a sweet package filled with awesome goodies. Full disclosure: the Reese's are already gone *burp*. Thank you so so much Carmen!
To the other ladies who participated in the Secret Santa with Mary and me, I can't wait to hear what you got! Hope everyone enjoyed participating as much as Mary and I enjoyed hosting :)
What NSVs are you celebrating this week?