WE MADE IT.

In honor of making it through the final full work week of the year, I'm counting off Five on Friday.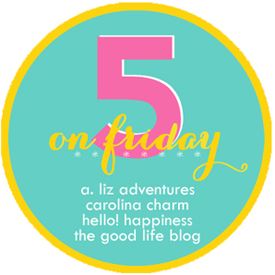 [ONE]
This girl is going home to Charlotte tomorrow and couldn't be more excited!! I'll be spending a week in sunny NC away from the snow, the city, and the stress of having to lug 193 grocery bags home at once.

Even better, I get to hang out with these beautiful people:

I'd love to tell you my awkward phase ended shortly after that photo was taken, but let's be real, it's still going.

[TWO]
Ever heard of graze? It's basically a subscription service for snacks. You select the type of snacks you'd like to receive (they have lots of lighter options too!), and the fine people at graze will send you a monthly or bi-monthly box of four fun snacks. If you use my referral link, your 1st and 5th boxes will be free! The regular price is only $6/box (including shipping) and you can cancel whenever you want. Loving this right now-- it's perfect to keep a stocked variety of snacks at my desk… and always nice to receive mail that's not bills :)
I finally finished Allegiant!

OH MAN SO MANY FEELINGS. I'll spare you the spoilers, but seriously, if you like Hunger Games, you have to read the Divergent series (this is the final book).

[FOUR]
Jillian Michaels is seriously kicking my butt with Week 2 of Ripped in 30. To be completely honest, I was surprised that Week 1 was as manageable as it was (not easy, but manageable). But there are definitely some W2 moves I can't even do. Planks are my nemesis and this one has so. many. planks.

[FIVE]
Only four days until Christmas, which is, without a doubt, my favorite holiday of the year. My family has a bunch of traditions we've been doing for years, like opening one gift on Christmas Eve after mass (new pajamas, always), watching "A Christmas Story," and doing a hilarious white elephant exchange at Buca di Beppo with my cousins. Bring on the holiday fun!
Any new book or Netflix recos for when I'm at home?
What are your favorite holiday traditions?