I didn't weigh in yesterday, because a) my scale's batteries are dead (convenient post-Thanksgiving, no?) and b) I didn't feel a need to confirm what I already know. Plus I ate a 10oz steak on Tuesday night so obviously I was bound to be up 10oz. :)
NEVERMIND the creme brûlée. Oh, the creme brûlée. A bunch of my girlfriends and I had a girls' night out at a steakhouse. Most of our meals out consist of appetizers or brunch, so I proposed we branch out and get some red meat and red wine. It was positively glorious. So glorious that the shot above is the only photo I took because I was too busy inhaling everything in sight. Unapologetically.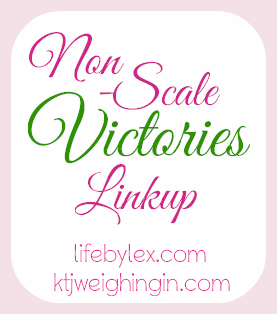 1) Apart from eating roughly 38429 calories at the steakhouse, I've been pretty on par with my eating this week. I didn't grocery shop after I got back into the city after Thanksgiving because ain't nobody got time fo dat. I've been making good use of my turkey taco chili leftovers for lunches and dinners. I also tried Starbucks' "Perfect Oatmeal" when I had to commute to the 'burbs for work on Tuesday, and I avoided the nuts and only topped it with brown sugar. Verdict: so good! But I'll probably stick with my 5 packets for $1 BetterOats because I'm cheap and they're lower cal.
Look at that post run glow! I mean, my face basically matches my shirt.
2) I FINALLY WENT FOR A RUN! It's been almost a month since my last real run, due to pesky achilles tendinitis issues. I actually wasn't planning on running after work yesterday, but I started to get ready for an at-home arm workout and decided to give running a try. Still dealing with a little right achilles soreness, but I was able to knock out 3 miles without too much pain. I'm still going to take it easy and only run 2-3x a week while I work back into it. Certainly not my best time, but I'm pretty happy I was able to get 3 miles in. I feel like a weirdo/running imposter/that girl… but I really did miss running! Old Carolyn is totally side-eyeing me for saying that. But running is one of the only times where I can completely decompress and have some alone time, not to mention, it's a great calorie burn.
What NSVs are you celebrating this week?