I mean, yeah, I fell off the face of the earth again this week. But here's my Five on Friday!
I'm running the Hot Chocolate 15K this weekend, because let's be real, my main motivation for running involves the promise of food afterwards. So those 9.3 miles will be spend envisioning finish line indulgence of delicious chocolate, followed by brunch (obviously). My [not so secret] goal is to maintain a 10:15 pace throughout the race, which is a hair slower than my 10K pace last month. I ran 9 miles last weekend at exactly a 10:00 pace, so fingers crossed that I can do it!
I went to the doctor today for my annual checkup. When the nurse practitioner weighed me, she looked confused and then asked if I had lost weight. UH YEAH I DID. She said she didn't even recognize me and that she thought she had the wrong patient! My doctor was excited about my progress, and told me she definitely thinks 150lbs is a reasonable goal weight that I'll be able to maintain. Great success!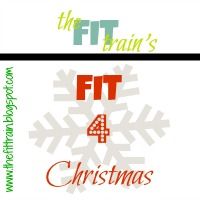 Ain't no secret that one of my favorite blog ladies Tiffany at The Fit Train! She's been going through a fitness hump, and her solution is to offer a little challenge to get #Fit4Christmas. In a desperate attempt to break into the 150's by the end of the year, you bet your bottom dollar that I signed up to join her. Here are my starting measurements (accountability!).
Thighs- 26 [R], 25.25 [L]
I'm mildly amused that my right thigh is bigger than my left, while my left arm is bigger than my right. I took before pictures too, but I'm not showing those bad boys until there's improvement to be reported.
Speaking of measurements, my calves, like Miley Cyrus, can't be tamed. These babies have been 16" since the very beginning, and they show no signs of shrinking. I still can't fit into normal width boots which is seriously cramping my ability to find some cute brown riding boots. My only goal this weekend, aside from running, is to hit up DSW and try to find some boots that can contain my calves.
Ohhhhh yeah, THIS. If I'm being honest, I basically blew off blogging this week so I could re-read Divergent and Insurgent before I dive face-first into Allegiant, the final book in Veronica Roth's dystopian trilogy. If you haven't heard of this series we can't be friends, it follows a similar premise and style to the Hunger Games trilogy. The main character is a 16-year-old girl named Tris who lives in futuristic Chicago, in a society divided into five separate factions. Like Hunger Games, society is a mess, and Tris has to learn how to survive all of the brutal situations she's thrown into.
Have you read Allegiant? [no spoilers please!]