I'm so so excited to finally announce what we've been plotting for weeks!
I'm teaming up with one of my favorite bloggin' ladies, Mary from Babble + Bloom, to host A Mary Christmas Carol (a blogger secret santa)!
I'm not sure exactly when I first started following Mary's blog, but two years ago she hosted a gift exchange, and I got matched as Mary's secret santa. I had so much fun scheming to find the perfect gift for her, getting my own lovely gift from my secret santa, and watching the whole exchange bring a bunch of bloggers together. So it was a no-brainer to combine forces with her to host our own blogger secret santa this year... with a play on our names, of course :)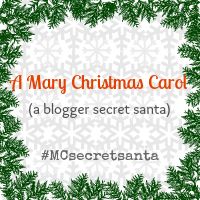 You don't have to be a blogger to participate, you just have to want to join the fun! If you'd like to participate, send an email to marychristmascarol@gmail.com. We will accept participants until Tuesday, 12/5, or until we run out of space, whichever happens first (so email us fast!).
We'll send you a link to the participant survey, a little questionnaire to collect your information and to help give your secret santa some gift ideas for you :)
We will send the secret santa pairings on 12/5, along with the gift ideas your secret santa provided in the survey. But you're more than welcome to get as creative/sneaky with your gifting as you like, within the $20 limit.
We ask that you please get your gift in the mail by 12/12 so it will arrive before any holiday traveling!


The Extra Stuff:


Use the hashtag (#MCsecretsanta) and share the button wherever you can! Feel free to invite your friends, your roommate, your friend's roommate… anyone you think would enjoy playing along.
If you're a fellow blogger, you're welcome to share our secret santa on your own blog with the button above! And, we'd love to host a little link-up at the end of the gift exchange, so everyone can share what they received from their secret santa.
Let's get this party started!
Questions? Comments?
Remember to email
marychristmascarol@gmail.com
if you'd like to participate!