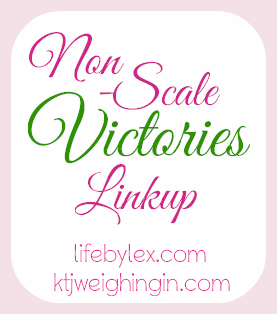 It's been awhile since I joined the NSV linkup, so I'm happy to share some big non-scale milestones and moments from the past few weeks!
I made myself work out when I was sick. Old Carolyn most certainly would've used last week's minor cold as a good excuse to take a day (or five) off from working out, but not anymore. I ran Wednesday and Thursday.

I bought a pair of pants in a SIZE FREAKING 8. I honestly don't remember the last time I bought a size 8... freshman year of high school? Maybe? They're a little snug, but I'd rather they fit me 5lbs from now than get saggy butt syndrome by then.
BONUS: I almost bought these bad boys full price a few weeks ago in
a size 10, now I got the size 8 AND they were half off! Patience, FTW.
I'm 73.3% of the woman I once was. This is amusing to me.

My claddaugh ring is almost officially too big. I wore it on my left ring finger until July, because that's the finger I had worn it on since I got it for my 13th birthday, and the only finger it semi-comfortably fit on (and my finger was comically small where I wore the ring, but fatter above). Since then, I've switched it to my right ring finger, and it's nearly too big. I cant easily slide it on and off, especially when it's cold. I was wearing a 9 ring at my highest weight, and this is a 7 and needs to be resized!

Despite putting it off all weekend, I was able to make myself run 9 miles last Sunday. This distance has been daunting, because I haven't run that far since the half marathon. I'm glad I did it, and faster than I expected to! Here's hoping I can even surprise myself a little on race day next weekend.

I officially surpassed the 500 mile mark for running this year! I don't think I ran 500 miles in my until life put together before this year, and I still have over 2 months left to rack up some more mileage.
What NSVs are you celebrating this week?