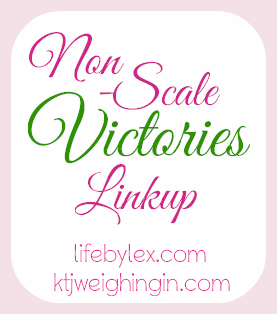 I'm mixing things up a little today and providing BOTH a random thought-dump and this week's NSV's:
NSV! I think I PRed my 5-mile time yesterday in 47:55. I don't know if that's for sure a PR, but I do know I shaved almost 10 minutes off my 5-mile time since the Cinco De Miler in May (57:22).
My excited face and my photogenic face are
mutually exclusive, apparently.
I think I'm going to chop my hair off at my next appointment in October. Long hair is starting to drive me insane and it's just not as healthy as it could be. Plus, I've had short hair in the past and I liked it. But it took me YEARS to get my hair this long. Conundrum.
Fall 2009. This is my natural color, so now you
know the blonde above is a lie.
Short hair in college (Summer 2009)
Originally, I hoped to hit my goal weight (150) by November 14th of this year, which is exactly one year since starting WW. Buttttt, at this rate, I don't know if that's gonna happen. As of this morning, I have 23.6 lbs to go. I did indeed gain weight during the last few weeks of half marathon training! Because CARBZ.

I have quite possibly the weakest teeth in the world. I don't chew gum, drink pop (that often) or eat candy, and yet I just broke my second tooth in the last 2 years.

My favorite ring is officially too big for my fattest finger. I used to wear a solid 8/8.5, and I think my ring finger is around a 6.5/7 now. My watch is also too big and I need to get links taken out. NSV?

Also a NSV: Yesterday I bought a box of 10 Quaker Oatmeals for $5. Pre-weight loss I used to get a $6 McDonalds Breakfast (the bacon/eggs/cheese bagel) like 2x a week. Healthy.

Have I mentioned how excited I am to get a pedicure post-Half Marathon?

I can't stop listening to "Royals" by Lorde. Can't stop, won't stop.

I bought a new black dress at Target two weeks ago and somehow lost it in my apartment before I could wear it. How does that even happen? EDIT: Found the dang black dress. It was hidden under the pile of clean laundry that lives at the end of my bed. Though I now feel like I should apologize to everyone who had to witness the juxtaposition of my pasty legs and ankle black boots. I LUHH DESE BOOTS THO. Can't win 'em all.
My family arrives in Chicago in <24 hours. In <72 hours, I'll be somewhere on Lakeshore Drive running 13.1 miles. For fun.
Also, I'm thinking about doing a Q&A post, but concerned that it could bomb terribly if there are no Q's for me to A. Got a burning question for me about life, love (HAHA) or the pursuit of happiness? Let me know!