First of all, thank you for all of your sweet sweet words yesterday! This community truly keeps me motivated and reminds me to celebrate how far I've come, even when I'm having a bad day.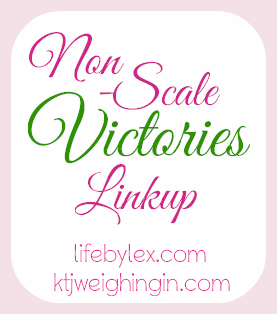 Secondly, checking in realllly quick with KTJ, Ashlee and Lex for this week's NSV linkup! Here are the NSVs I've been celebrating lately:
1) I was able to jump back into my Half Marathon training program post-vacation, without too many problems. I think my endurance definitely took a little hit after a full week off (and lots of unhealthy eating and drinking), but I'm focusing on the fact that—despite it being a little more difficult—I've gotten back into it!
2) Today I'm wearing a skirt I haven't fit into since high school! I bought it early in my sophomore year and probably haven't worn it since my junior year (2005?!), but I've been carting it along with me through the years in hopes that one day it'd fit again. Guess what? It's a 12 and borderline too big. Hell to the yeah.
3) Today started with a PR-ed 4-miler (39:07!) followed by Oats in a Jar, Cookie Butter Edition. YOU GUYS, I CAN'T EVEN. JUST MAKE THIS. I used a pre-made oatmeal mix (Quaker's Raisin, Date & Walnut) + about a teaspoon of cookie butter left in the jar. 5PP of absolute perfection.
What NSV's are you celebrating today?