Last week was a crazy week! But in a desperate attempt to adjust back to life as a working girl, I put on my big girl panties and cleaned my room this weekend. Clean room, clean slate.
So, after Ireland, I spend last week trying to detox, and it worked! I actually weighed in this morning around 175, so I'm hoping I'll be back to my pre-vacation weight for this week's weigh-in.
Before I jump into this week's goals, I thought I'd recap this weekend's epic 10-miler for Motivation Monday!
To say my 10-miler yesterday was rough would be an understatement. I tried to mentally pump myself up before the run, but I was just feeling
off.
I've really been struggling with my sleeping lately (I'll wake up multiple times through the night), so I snoozed my alarm at 6 and didn't end up starting until 9am. It wasn't too hot, but the sun was beating down more than if I had just run at 7am like I wanted to.
After the stomach rumbles I experienced on my 8-miler, I thought I'd try eating something pre-run, so I ate a banana and 3 Shot Bloks about 30 minutes before I left. It sat like a rock in my stomach for the first 30 minutes, and before I even hit the 2-mile mark, I was really questioning whether or not I could complete the run. I pushed through and started to hit my stride around mile 4, when I was finally able to push the negative thoughts out of my head. However, I was pretty freakin' annoyed that RunKeeper skipped about a half mile ahead, so all my pace calculations were off.
Miles 4-8 weren't too bad, though I did stop in a Mickey D's quick for a pee-break. But then I really started to hit a wall. There was a point around mile 8 where I just had to pause RunKeeper and stand on the sidewalk for a few minutes. I wasn't sure if I was going to puke, poop, or pass out, but I just felt a wave of woof. After some deep breaths and a few deep knee bends, the feeling passed and I got my ass in gear for the last push.
I did have to take two short walk breaks, but I did the damn thing! It's insane to me that 9 months ago, I could barely run half a mile without stopping. And yesterday I ran for almost two full hours. Ten entire miles! And check out that activity point burn-- 23 APs! Suffice to say I housed a Subway footlong when I finally regained my appetite a few hours after running.
A few other scattered thoughts:
After I got home and sat down, I legitimately feared that I wouldn't be able to stand up again.

My muscles are definitely a little sore, but my feet were hurting when I got home.

I got a blister on my finger from carrying a water bottle.

I'm thinking/hoping my slower pace is a result of taking the week off, not from the distance alone. All of my long runs up to this point were at a 10:15-10:30 pace.

I need a better way of carrying fuel. The butt pocket on my leggings isn't that easy to access on the move. Any fuel belt recos?
Onward and upward, I've got an 11-miler on tap for this week, and look out for a post about my half marathon goal soon :)
As for this week's goals...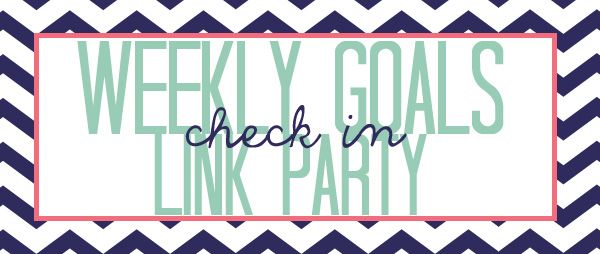 Last week the plan was to drink a lot of water, get in all my scheduled runs, and get back to healthy eating. And I did pretty well! Nailed all my runs except Sunday's 4-miler (whoops), and definitely reigned in my eating back to normal.
Here's what I'm working on this week:
1) Strength Training at least 2-3 times. I've been slacking on the strength front, because running alone has done really good things for my legs. But my guns still need some serious toning!
2) Get back on a regular sleep schedule. I'm a night owl by nature, but I need to get back on a regular sleep schedule so I'm not snoozing through my morning runs. I've just realllllly been struggling with sleep lately, so I'm open to any suggestions!
What goals are you working on this week?