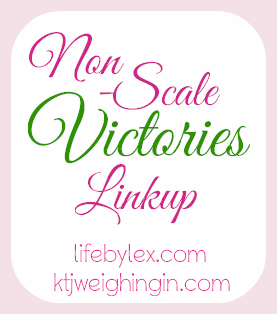 Hi! It's almost Friday! That deserves exclamation points!
Anyway, linking up with Lex, Ashlee, and KTJ for this week's NSVs. There are three:
1) I ran 12 miles on Saturday and it was awesome. Well, as awesome as running for the entire duration of a full-length movie can be, but still.
2) I bought some awesome red/burgundy pants at Target last weekend in a 12. I've been hoping to get into a 10 lately, but WHATEVER, I thought the 12 fit fine. Brought those bad boys home and wore them yesterday. By late morning they were so stretched out I had to hike 'em up as high as they'd go just to keep them from looking lumpy. Guess mama's going back to get the 10!
Disregard my Ketchup/Mustard color combo.
I realize it's a normal color combination, but for
some reason I can't help thinking ketchup/mustard.
3) Yesterday one of my new coworkers complimented me on my Katniss hair:
And then I felt like this:
What NSVs are you celebrating this week?