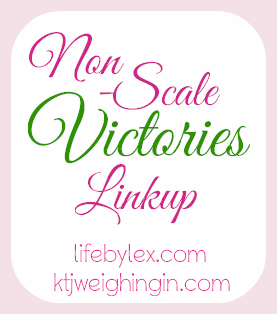 1) My pajama pants are too big. I've had these pants since at LEAST the beginning of college (6 years ago, yikes), and now they're too big. As in, sometimes they fall down even though I try to tie them up tighter. Guess it's time for some new ones?
2) I ran while I was in Nashville! Working out while on vacation (even though I was only in Nashville for 36 hours) is a huge mental block for me. But I knew I had to make it happen in order to get in 4 runs last week. Despite going out and having drinks—mmmm bushwhackers— until 3am on Friday, we woke up at 9am to get in a steamy hill-filled 3-miler on Saturday morning. My calves were screaming!
3) I bought regular sized jeans at Forever 21! When I started this journey, I was wearing a 16 (from their plus size line). I remember feeling SO excited when I sized down to a 14. Now, I'm wearing a size 30 from their regular line! Holy moly!!
My face is in regards to the shirt, which
made me look at least 6 months prego. Bought
these jeans though!
I actually don't completely hate my legs in these white pants.
Now I kinda regret not buying them.
4) I ran 7 miles last week! I apologize in advance that all of my NSVs in the coming weeks will probably include the week before's long run. But 7 miles was completely new territory for me! Despite 90+ temps and having to stop in a Walgreens for an emergency bathroom break circa mile 4.5, it was actually relatively smooth sailing. Let's just say, I won't be fueling with Clif Gels ever again-- taste was fine, but the texture was pretty freakin nasty. Like eating warm baby food when it's already a million degrees out. I've got 8 miles on the agenda tomorrow and hoping that this week's cooler temps keep me going!
Now please excuse me while I go panic and pack for Ireland tomorrow. Aside from the euros I picked up from the bank today, I'm completely unprepared. I'll be checking in on the blog tomorrow before I leave, with a fun little announcement about next week!
What NSVs are you celebrating this week?