I've missed
Lex
,
Ashlee
and
KTJ
's NSV linkup lately, but I'm baaaaack.
Warning: Selfie overload ahead. Proceed with caution.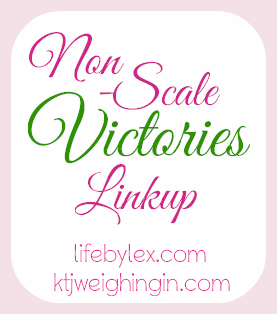 Here are my NSVs for this week:
1) After yesterday's mini-freakout about the rigor of my half marathon training plan, I was a little worried about today's 3-miler. But, I hauled myself out of bed to get 'er done before the sun got too hot... and it was a great success! What a difference to run when it's 73 versus 83-- I felt SO much better. I stopped my watch and took a mini-stretch/catch-my-breath break just before the 3rd mile because I was trucking, and then managed to bust out my fastest 5K ever!
Sweatfest.




2) Jess' 10-Week Challenge wrapped up last week and it was such a fun group to be a part of. She's going to make some major (and awesome!) tweaks to it for the
next time around
, but I found that simply having a really supportive group was really helpful to keep me on track. I will absolutely be participating again next time-- check out the link if you're interested.
For the results: I have a large mirror facing my shower, and honestly, when I look at myself getting out of the shower every day, it's hard for me to see a difference in my body. But I took an embarrassing "before" photo for the challenge, in hopes that the "after" would show a difference, and I'm happy to say it does! This is the first tummy photo I've ever posted.... (I've never worn a bikini in my life, not even as a child) *deep breath*:
Before: 196. After: 178.
(disclaimer: I'm kneeling in the right pic, so my
thighs look svelter than they are in real life).
3) I rediscovered a skirt in my closet that hasn't fit me since my sophomore year of college ('08). It's a size 12 from Ann Taylor. I tried it on today-- not only did it fit, it's almost too big! Now I just need to get a job again so my shopping habit can return to normal ;)
What NSVs are you celebrating this week?