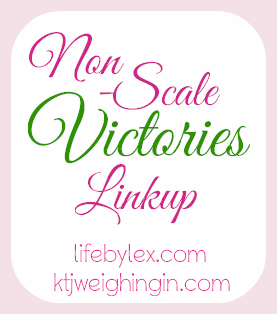 I meannnnn, I didn't have any scale victories this week, so I suppose it makes sense to keep charging ahead by focusing on what I
did
do right. Per usual, linking up with
KTJ
,
Ashlee
, and
Lex
for their NSV Linkup!
Here's what I'm celebrating:
My eating was ON POINT last week. Maybe too on point. I earned 83 APs and only ate 6 of 'em (in addition to my weeklies, which I ate all of). But I ate healthy, I cooked a lot at home, and I even resisted the temptation of delicious BBQ ribs on Saturday night. BTW, new favorite meal of choice: any type of fish (except salmon because for some reason I love raw salmon but hate cooked salmon) pan-seared with my Tastefully Simple Seasoned Salt + sautéed zucchini + brown rice. Yummus and only 10PP (give or take)!
UM I BOUGHT A BIKINI. It's still en route to me from the UK which is apparently the only place where they make swimsuit tops for anyone larger than a D-cup. Stay tuned for whether or not I actually venture outdoors in that bad boy.
I retook my measurements yesterday, for the first time since May 1st. I'm down a dress size, 1 inch in the hips, 1.5 (!!) inches in my arms, 2 inches in my waist, and 1.75 inches in my thighs. I tried to take a picture of my flex, but it still looks weak-sauce even though I actually do notice a difference in my arms. My bust is holding steady at the exact same number it was last time... and the time before that. It's so sad it's [almost] funny, really.
Shockingly, I really enjoyed my 6-mile run last weekend. With the half marathon in one month and 3 weeks (but who's counting?), I alternate between complete terror and semi-confident about the race. But hoping to have a solid 7-miler tomorrow before I head to Nashville for the weekend!
What NSVs are you celebrating this week?