TGIAF! Am I the only one that celebrates this milestone on a weekly basis? Seriously, I've felt pretty crazy and stressed the past few weeks, so it's nice to know the weekend is in sight.
While I missed weigh-in Wednesday, I'll obviously share my results anyway.
HECK YEAH, a 3.8 lb loss! Proof--to me at least-- that last week's increase wasn't [solely] due to my weekend spent tracking-free. And while I got in some solid runs last week, for some reason I didn't hit the 50+ APs I usually rack up. So, the goal for this week is to work on working out: at least 4-5 runs, and strength training at least 2-3 times.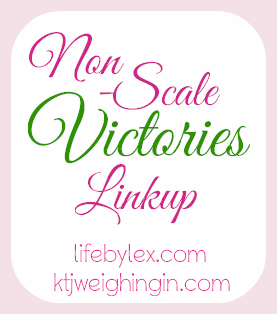 Lastly, I'm linking up with Lex, Ashlee (new host!), and KTJ for this week's NSV victories. To be honest, I haven't been keeping these front of mind, because I've been pretty focused on the scale lately. All of my scale numbers from here on out, I haven't seen in 4+ years! But, here are three NSVs that stand out:
1) I got so many compliments on my weight loss at work yesterday! I wore a wrap dress that I've owned since 2007 (seriously, I wore it the week I graduated from HS), but felt so dang confident in it, now that I'm 40lbs less than the last time I wore it.
2) I am THIS CLOSE to being out of obesity range on the BMI chart (.6lbs away, to be precise). It's kindof sad to me that, according to statistics, I'm obese. I run 10-15 miles a week at a 10:30 (or faster!) pace. Really? Still? Just another reason why progress (and not some stupid chart) should be trusted.
3) Mentioned this last week, but I now fit into a skirt that was too small on me when I bought it TWO YEARS AGO. Clothing shopping has been made infinitely more fun now that I know I can consistently fit into regular sizes. I have so much more confidence buying clothes that I KNOW look good on me, not just clothes that I'm happy fit.
What are your NSVs this week?