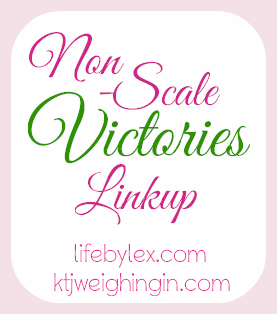 Per usual, I'm linking up with
Lex
,
Ashlee
, and
KTJ
for the NSV linkup. This week gave me 2 big NSVs:
1 - I'm happy to report that according to the very-outdated-but-still-widely-used BMI chart, I'm no longer obese. I meaaaaaaaan... I don't place much stock in these numbers because I think they fail to take into account many factors (diet! level of activity! how many times you drag your half-asleep self out of bed to run in the morning!), however, I know doctors still look at these bad boys every time you're in their office. And for that reason, I'm movin' on DOWN. Now I'm just plain overweight! Hey, a victory is a victory-- when I started my BMI was over 36!
2 - I've had this pair of jeans sitting in a box since I moved to Chicago nearly two years ago. In fact, they mostly sat in a box even right when I bought them (in '08, I believe), because my dumb self bought them already too small and wearing them meant walking around and feeling like an overstuffed sausage casing. Anyway, while emptying the trash, I walked past that box and had the crazy idea that maybe, just maybe, they'd fit me again. Low and behold, those babies fit! Granted, they're a smidge tight, but I can definitely wear them. This means I can toss my way-too-big 14's out!