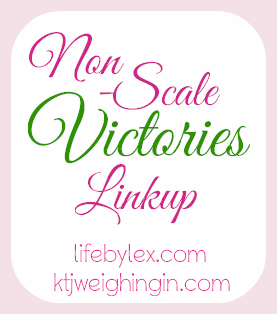 You learn a lot about yourself when you lose 50lbs. And it's weird, because at 24, I thought I knew myself pretty well. But my NSV this week is getting to know a whole new side of myself that was hiding before I started this weight loss journey.
I've learned...
I actually do have willpower *GASP*. I just chose not to exercise decision-making skills before starting this journey. Because, yeah, sometimes it IS easier to go the unhealthy route.
You can lose weight without exercise. But you can't get stronger and more toned without exercise.
I am stronger than my excuses, and my excuses won't get me to where I'm going.
Healthy eating habits start in the grocery store. I can't be trusted around: nutella, pita chips, naan, Pirate's Booty. Therefore I never (or very rarely) buy these things.
Fruits and vegetables can be satisfying snacks or desserts.
Just because I drank doesn't mean I need drunk food.
Telling people about your changes really does make it easier to stick with them.
I can have a delicious and filling breakfast that isn't a McDonald's egg, bacon, and cheese bagel sandwiches.
I don't deserve bad food just because I: ran this morning/had a bad day/am on my period/am not on my period/it's a <insert day here>/it's the winter/etc.
I deserve good food because good food helps my body to continue losing weight and working out.
Sometimes a good run after a tough day can feel just as good as ordering fattening food from GrubHub.
I'm not as terrible of a runner as I thought I was. And I'm getting better and stronger every day!
Pinning exercises on Pinterest still doesn't qualify as actually doing them... no longer how long I leave the browser window open.
Rest days are a gift from God.
So is the 80's cardio Pandora station.
One cheat meal doesn't mean I should eat crap for the rest of the week and then just "start over on Monday."
Moderation isn't just a 13-point word in Scrabble.
Everyone who said my boobs would shrink as soon as I started losing weight was wrong. So, so wrong.
I won't feel miserable and empty and deprived if I eat a salad at Trivia instead of a burger and fries.
Margaritas are still totally worth 8 points... sometimes.
What has your weight loss journey taught you?