In addition to my NSVs (which are below), I'm linking with with Holly and Jake for this week's Finish the Sentence linkup...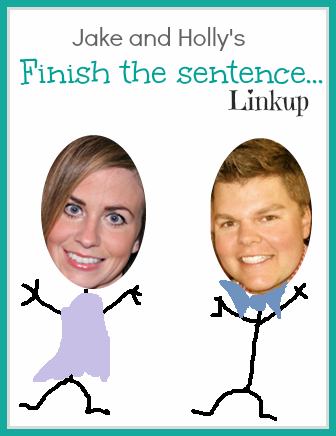 Unlike my siblings (that I love very much)... I remembered that Sunday is Mother's Day. Thank God my mom had one daughter.
My best friend says... that I am 100% predictable. Valid.


People call me... Pooh, Queen Pooh, Pooh Magoo, Snirt, Snirtlyn T, Snirtlyn Therese, Jugs, Carol, Care, Carebear, CB. Would you like me to continue?
I most often dream... that I'm in a really messed up situation and running/hiding for my life. Freud would have a field day with that ish.
The best part of my day...
is usually dinner and veg-out time after work.
I really don't understand... why I am physically incapable of making it through an entire tube of chapstick without losing it and/or accidentally putting it through the wash.


I get really annoyed... when people on the train sit in the aisle seat and leave the window seat open, and then give me the stinkeye when I ask them if I can please sit there.


There's nothing like a... city beer garden on a summer night.


Lately, I can't get enough... string cheese. If eating string cheese multiple times a day is wrong, I don't wanna be right.
One thing I am NOT is... poker-faced. My face always gives away how I really feel. I may or may not have been called out for this in a meeting at work today.
"I'm not making a face. I swear."
I spent too much money on... clothes and shoes last month. And the month before. And probably the month before that, too.


I want to learn.... Spanish fluently. I've taken many years of lessons, but not consistently enough to be fluent.
I can't stop... watching Lockup: Raw on Saturday nights. I think I was destined to be a criminal psychologist in another life.


Never have I ever... seen a James Bond movie. Nope, not even one.


Reese Witherspoon... is just BEYOND.
------------------------------------------------------------------------------------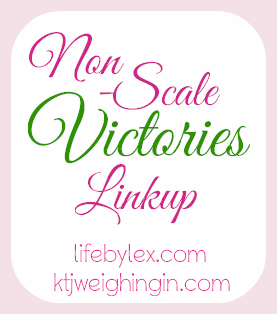 I'm excited to be linking up with Lex and KTJ for this week's NSV linkup! I've been sitting on these bad boy NSVs since last weekend.
I tried on a dress I've been lusting after at LOFT and the 14 was too big. I generally wear one dress size larger than my pants size to accommodate the girls, so that fact that I needed a 12 was so exciting! ... except that they didn't have a 12 in the store. Or in the other LOFT near my apartment. So I will never know if that dress actually fits. CAN'T WIN 'EM ALL.

Trying to hold the extra fabric on the side to see
what it'd look like in a smaller size. No dice.

I have had an issue in the past with Forever 21, because there's a pretty big discrepancy between their plus sizing and their regular sizing (please tell me I'm not the only one who thinks this!). I would be swimming in their smallest plus size top (this from a girl with a pretty large chest), but not even close to fitting into a regular large. Anyway, I went to a Forever 21 that didn't have a plus size section with my roommate last weekend, and I grabbed a bunch of clothes to try on, knowing I'd either walk out of the fitting room really excited, or really frustrated. To my surprise, every single thing in a large (with the exception of one teeny tiny miniskirt) fit me perfectly! I haven't bought a regular large from Forever 21 in probably at least 3-4 years. It was awesome.

I've gotten so much better at drinking water lately! I got this handy little tumbler with a lid and straw (Walmart for $3 holla), and it holds 24oz, so I just know that each day I need to fill it up 4 times, and anything else I drink at home before/after work is extra. BOOM.

Completely unrelated to anything fitness or healthiness, a really cute stranger held his umbrella for me when I exited the train and was walking toward the covered platform. D'awww. Cute stranger, you made my day.
What were your NSVs this week?
PS- That teaser last week about doing something I had never done before in my adult life? Yeah, I was really excited to join this spankin' new (really cheap!) gym near my apartment. Too bad I went to take the tour, only to learn that the gym wasn't opening for at least 90 more days. Needless to say, I'm still gym-less. Boo.