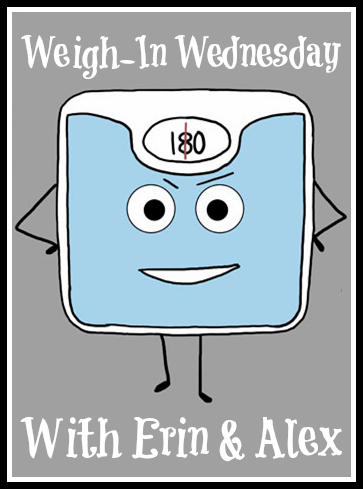 I'm joining in Erin and Alex's Weigh-In Wednesday linkup once more. PLUS, this day was also important as it was the end of my first official Dietbet, so I needed to make it count... especially after last week's slight gain.
So the weigh-in was a success, but I was worried about my Dietbet because it technically ended this afternoon, but I was doubtful that I'd be able to have a successful weigh-in this evening a) because I was at a conference all day, which meant eating less carefully than usual, b) because I didn't run this morning, and c) because I'm about to start my period tomorrow.
Long story short, I had a few (3) drinks this evening between the post-conference party and my kickball team's first meeting. I didn't eat dinner because I splurged on Chik-fil-a at lunch. So, I figured I'd chug water tonight, run tomorrow morning, and then weigh-in successfully. YES I REALIZE THIS IS NOT THE RIGHT THING TO DO. However, I've consistently weighed in at or below my Dietbet goal weight in the past week, so I didn't want my period to blow me off-track, as I usually gain 2-3 lbs in the first few days.
Out of curiosity, I weighed in this evening as soon as I got home from kickball, and was very pleased to see that I was exactly .1 below my Dietbet goal. I feverishly snapped my pictures and sent 'em in. Seconds later, weigh-in verified! Great success!
Now, momma needs to eat some dinner.