I'm baaaaaaack!
You may have noticed I took a little hiatus last week, for reasons I'd rather not talk about just yet. But apart from that, I had a fabulous 24th birthday last Friday (5/17). As I said on Facebook, I'm the luckiest girl to have absolutely amazing friends and family in my life. To those of you, near and far, who made me feel so loved and celebrated, I am truly grateful.
PS - I'm on Instagram here!
And, my big news on the weight front, is that as of 5/16, I weighed in at exactly 188 on the nose-- a 40 lb loss, and a major milestone I was hoping to hit before my birthday!
It was
not
my goal, however, to try to eat and drink those el bees back throughout the weekend... but, sometimes you've gotta break the rules. I tracked everything and only tapped 3 points into my APs (the weeklies were exhausted), but have a feeling I may not be hitting my Dietbet goal weight (188.5) this Wednesday. Blehhhh. If I fail, it was still worth it.
My weekend: mani (reward for the 40 lb mark), sunshine, a new book,
and desperate [unsuccessful] attempts to tan my legs.
In the meantime, you can find trying to sweat my face off until Wednesday.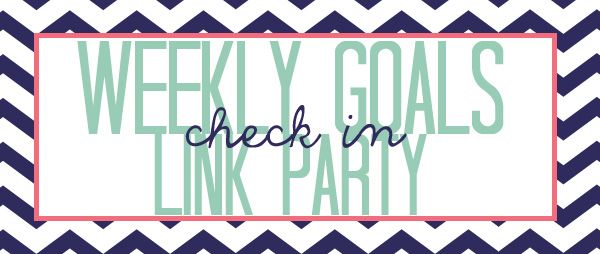 Now that I'm back to the grind, it's time to get back to goal-setting with
Jess' weekly goals linkup
. I actually did hit my goal of exercising 5 days last week.
As I've said before
, I'm trying to work on consistent mileage in my running, in hopes of (maybe? possibly? ayiii?) signing up for a half marathon this fall.
While I didn't get in a long run (5+ miles, for me), I did manage 4 days of running for a total of 13.1 miles run. On my non-running day (Saturday), I did
this arm workout
again. I had the crazy revelation that I used to have FIVE 8-lb dumbbells of extra weight on me at the beginning of this journey.
Oh, and because everyone's always talking about squats, I threw in 100 squats (34 regular, 33 toes in, 33 plie), because 100 seemed like a nice, round number. HOLY COW. My legs were fine yesterday, but I am in pain today. But good pain. Like, I did my legs good, kinda pain.
And now, for this week:
1) Do not eat more than the activity points I earn.
I typically allow myself to eat (... or drink) all of my extra weekly points, and leave my activity points untouched. When I go over my daily points (31PP), It deducts from my weeklies. In an effort to not overdo it, I'm only allowing myself to eat back as many APs as I gain, even though it'll still pull from my weeklies first. This way, I'm forced to be accountable over Memorial Day. Even though I'll be at my roommate's lake house. And probably eating (... or drinking) a lot.
Hopefully this motivates me to a) work out, and b) still be reasonable in my eating.
2) Drink 128oz water daily.
I've been killin' it on the water-drinking front, ever since I got this bad boy, my new $3 best friend:
Not mine, but close enough.
At 24oz., I'll need to drink 5 of these babies a day, plus whatever I drink at home before/after work. Totally doable. Very necessary (especially with the high temps in Chicago the past few days). This is the team goal for Jess' 10-week challenge group, so I have high hopes that I can nail it!
What are your goals for this week?