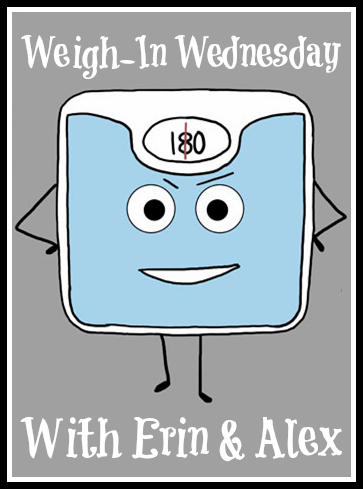 Linking up with Erin and Alex for this week's Weigh-In Wednesday... which unfortunately is not going to be as positive as last week.
After kicking my ass and eating pretty good last week, I had a 3.8lb loss. I definitely worked out even harder this past week (4 runs! 1 gym day!), so I figured that would at least neutralize the eating I did at the brazilian steakhouse. Which, BTW, wasn't even really that bad. I ate about 60% veggies, 15% meat, 15% dairy, and 10% carbs. Pre-WW Carolyn wouldn't gone to freaking town on the tortellini alfredo, and I only had about 8 of those babies. I digress. Here's the cold hard truth:
Ugh. I'm trying not to be disappointed, but I can't help being a little annoyed. I earned 57 APs last week, and I didn't even eat a single one of them! Even if my points calculations were off by 30 points throughout the week, I still would've had a 31 extra point deficit. Ugh.
Note: I don't always track fruits and
veggies if I know they're 0PP
However, in an effort to be positive, I have two theories:
I'm gaining muscle. While my run this morning was not that great (my legs felt like cinderblocks, which hasn't happened to me before), I have to be gaining muscle. Three months ago there was no way I could run one mile straight, let alone five! So, I'm going to assume part of this may be due to muscle increase.
Alcohol vs. food. In a typical week, I allocate a majority of my extra weekly points to alcohol (glass of wine or three here, margarita there... hey, at least I'm counting it). This past week, the majority of my extra weeklies went to food -- not alcohol -- consumption. I think the extra food may be throwing me off more than alcohol does, even if the points equal out about the same. With my parents in town, I deliberately chose to drink less and eat more, which I think could potentially be responsible for the gain.
Either way, the upside of all of this is that I've still [unofficially] reached my Dietbet goal for Lex and KTJ's Dietbet, and I've officially signed up for another Dietbet, sponsored by A Merry Life (there's still time to join, it starts today!!). I'm hooked! ...Mama wants some new summer clothes, and the money's gotta come from somewhere ;)