I have to say, I quite enjoy Thursdays A) because that means it's almost Friday and almost the weekend and B) because even if I had a rough weigh-in yesterday, I can still try to find something positive to focus on instead.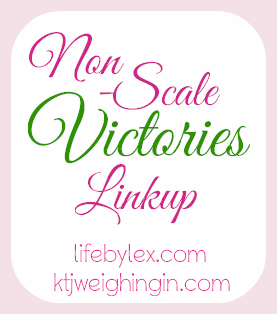 My NSV is from yesterday. Let me paint you a picture: It's Wednesday afternoon. I already know I'm at my ugliest Wednesday afternoon at 3:30pm because Jezebel says so and therefore it must be true. It had already been a long and stress-filled week with numerous big projects on the horizon and a lot of internal projects also on my plate. The day ended on a very frustrating note, which kept me in the office later than expected for reasons I won't go into. I wanted to go home. I wanted to go home, sit on the couch, order really fattening delicious food off of GrubHub, watch TV, and go to bed.
Instead, as I walked home and it was already dark out, I repeated to myself over and over again: "I won't let a bad day at work keep me from my workout. I won't let a bad day at work keep my from my workout," the whole way home. I wanted to blow off my run. I wanted to lay in my bed and wallow in my frustration and cry.
I got home, charged my phone, changed, and got outside. And wouldn't you know, I made myself pound out five miles.
Did I want to stop a few times? YES.
But did I feel a million times better when I was done? HELL YES.
And that's enough to keep me going.
What are your NSVs this week?