Time to linkup with Lex and KTJ for this week's NSVs. And, because Kadi challenged me to take more selfies, prepare yourself.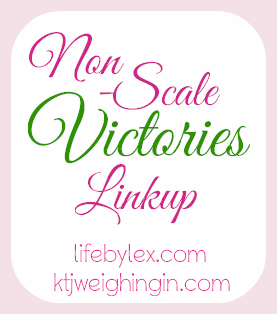 This week has definitely been about changes... in a good way. In the past when I've lost weight, I never really lost enough to notice any significant changes. But this time is definitely different. Here's what I'm noticing:
My jean jacket buttons comfortably! I've had this jacket since... maybe sophomore or junior year of high school (which I know because I wore it in my senior pictures). Well, I obviously love the damn thing, but it was starting to get pretttttty snug [read: completely un-buttonable] last fall. Now, that bad boy buttons up no problem. VICTORY!
L - sloppy freakshow baby Carolyn.
R - sloppy freakshow young adult Carolyn.
My booty is smaller. I didn't realize this was something that needed to shrink so much, but it was definitely the first to go. All my jeans looked like I was walking around with a load in my pants before I bought new ones. Speaking of jeans...

My new "skinny" jeans are now too big! I bought them about 8 weeks ago, and they were too tight at the time, but I knew I'd keep losing so they'd fit. Now, this happens:
NOT SUCKING IN.
sorry 'bout the mess. that'll never change.
My waist and face are smaller. My stomach and face were the areas that really started to terrify me in pictures [and in life] pre-WW. Because suddenly it wasn't just a "oh, that's an unflattering angle" issue. It was a "oh, i really have that much chin and belly" issue. And my photoshop skills are not impressive enough to deal with that ish. Here are some side-by-sides from late last summer/fall and now:
If I have a "last straw" picture, this left one is it. I'm cringing.
So much less chin!

Lastly, I got to wear these babies when it was abnormally warm on Monday. It has since proceeded to rain the rest of the week. Oh, Chicago, never stop being you.
Shoe selfies in cabs. That's a thing, right?


I have to say, I've been in a much better mood this week since making it a goal to stop being such a negative miserable person like I was last week. I think I just might trick myself into believing it ;)
What are your NSVs this week?